Reviews & LongReads
Bitcoin has picked up its bullish momentum in the last 24 hours. High levels of Institutional adoption, fundamentals, and on-chain indicators look bullish and point to an extension of the rally, at least, in the long term.
In a recent report, Senior Commodity Strategist for Bloomberg Intelligence, Mike McGlone, states that Bitcoin is in a "transition phase." As a result, the benchmark cryptocurrency could move from being a "risk asset" to become a global reserve asset.
Comparing the "rhythm" of Bitcoin's 2017 bull market to the current one, McGlone estimates that Bitcoin's price could peak at about $400,000 by the end of the year. In the chart below, he notes a correlation between surges in the cryptocurrency's price and a rise in its Liquidity Index.

5 BTC + 300 Free Spins for new players & 15 BTC + 35.000 Free Spins every month, only at mBitcasino. Play Now!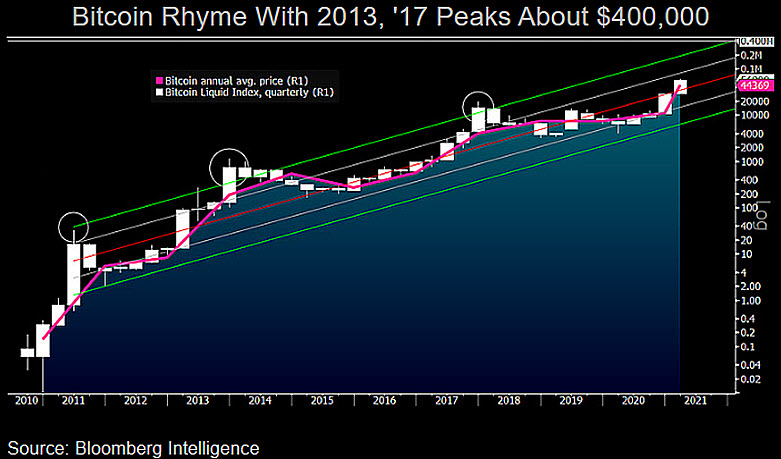 In late 2020 and early 2021, it can be seen how the latter metric has seen two significant growths.Bitcoin market action and the approval of at least five new exchange-traded funds has impacted Grayscale Bitcoin Trust (GBTC).This product has been one of the most favored for institutional adoption.
However, its premium has trended lower in recent days. On the relationship between BTC's price and the drop in GBTC's premium, McGlone concludes:
Bullish underpinnings for GBTC are gaining legs, as it outpaced Tesla by almost 50% this year. The increasing probability for Bitcoin ETFs in the U.S. is supporting the price…but contributing to the GBTC discount.
Where is Bitcoin price heading in the short term?
In the short term, the sideways trend Bitcoin price has seen recently could change and shift in the bulls' favor.GBTC will soon "unlock" a "massive" amount of shares.The benchmark cryptocurrency could benefit, as analyst Ben Lily stated:
Which is creating a lot of uncertainty to its future. What I'd like to remind readers is each time a wave of large unlockings hit, not only does bitcoin's spot price rise, but the share price of the Trust gains in value with respect to its underlying holdings (NAV). If we ignore the fact it's at a discount then the likelihood of this measure to rise based on history is batting one-thousand-perfect.
Bloomberg's models for Bitcoin-to-flow have been echoed by Bitcoin's Stock to Flow creator, Plan B.In his latest chart based on the referenced controversial model, Bitcoin's price could approach $500,000 by the end of 2021.
IMO we are only ~4 months into the bull market and nowhere near the end of it .. #bitcoin is just getting started pic.twitter.com/6n0B15rqyB

— PlanB (@100trillionUSD) March 26, 2021
Bitcoin is trading at $53,657 with gains of 3.4% on the last day.On the monthly chart, the performance is positive by about 10.1%, but losses by 7.5% are seen on the weekly chart.The market capitalization stands at $1.01 trillion.